VERA ESTATES 
VERA ESTATES is a high-end subdivision in a serene countryside living with metropolitan conveniences. A Residential development embodies a community of serenity and refinement situated on the sprawling greenery of the northern part of Metro Cebu. It offers a tranquil home address while still promising an active commercial district.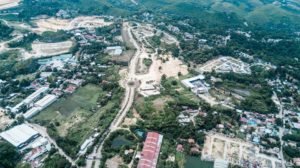 It is located in Barangay Tawason, Mandaue City, a rural setting area yet accessible to the City, Airport, North Highway, near schools, church, markets and commercial centers.
A master-planned community with a mix of residential and commercial development.
Vera Estates, home to the stylishly gracious, marries stylish and serene countryside living with metropolitan conveniences.
Taking inspiration from the aesthetics of the French countryside is The French Highlands, Phase 2 of Vera Estates. Among the French-inspired elements in the commune are walkways and landscaping that mirror the majesty of the gardens and courtyards of French palaces and a clock tower that is straight out of old-world France.
ACCESSIBILITY:
Prime Location in Mandaue
Easily access to Cebu City
The Airport and North Highway
Near Schools
Church
Markets
Commercial Centers
FEATURES AND AMINITIES
Wide Roads, 20-meter Right-Of-Way Main Road.
Fully Landscaped Entrance
Fully Fenced Perimeter
Central Clubhouse with Swimming Pool
Community Chapel
Landscaped Parks and Playgrounds
Street Lights
Jogging Trails
Bike Lanes
Water Features and Lagoons
Tree-Lined Roads
Concrete Roads, Sidewalks and Curbs
Separate Storm and Sewer Drainage System
MCWD Water Source
VECO Electrical Power Supply
Underground Power Service Connection to the Houses
Telephone Lines and Cable TV Lines (Subject to utility company's expansion program)
 HLURB Lic. to Sell No. 27171 
The French Highlands is a subdivision inside Vera Estates. The first of four residential enclaves located at an elevated area which is overlooking the city.
Subdivision Area      : 19 hectares
Total Number of Lots: 181 lots
More Photos (Click the thumbnail to enlarge)
UPDATED AS OF MARCH 23,19
LOT ONLY
Lot cut: 228 sqm, 238 sqm, 248 sqm, 268 sqm, 288 sqm, 308 sqm, 318 sqm, 328 sqm, 428 sqm, 438 sqm, 468 sqm, 518 sqm, 608 sqm,
Lot Type :
M – Main Road
C – Corner Lot
E – Facing East
S – Scenic Lot
 LOT DETAILS:
PHASE 1-B
Lot Type: Scenic lot
Lot cut: 228 sqm
Price: 6,094,440
20% Down payment: 1,218,888
Reservation Fee: 100,000
Monthly Equity: 46,620 in 24 month
 NOTES:
 Lot Type (MES) – Main Road, Facing east. Scenic Lot
Basic house deliverables; walls are painted, plumbing fittings, tiled floors
House upgrade is allowed and will be assessed separately.
AmanciaLand Realty a Real Estate Firm which caters your Real Estate need..
HOME is WHERE our STORY BEGINS….
How to start??
 Feel free to ask more about this project..
 Glenn S. Amancia
Real Estate Broker
PRC lic. # 0020705
MOBILE PHONE NUMBER:
 Sun Cell: (+63)933-393-7402
Globe: (+63) 917- 154-1844
Email: amancialandrealty20@gmail.com
FB: Glenn Amancia
FB: https://www.facebook.com/amancialandrealtycebu
Website: www.amancialandrealty.com
Our team of Amancialand Realty….
 We can help you process your housing loan, MECO/VECO & WATER Connections..
View all my Listings of House and Lot  for sale in Cebu City, CEBU SOUTH PROJECTS  Talisay City, Minglanilla, Naga Cebu, San Fernando, Carcar City and Toledo City, Argao, CEBU NORTH PROJECTS Mandaue City, Consolacion, Liloan, Compostela, and Lapu-lapu City.
Figures above are for illustration purposes only. Actual monthly installment and effective interest rate shall be indicated in your loan documents..